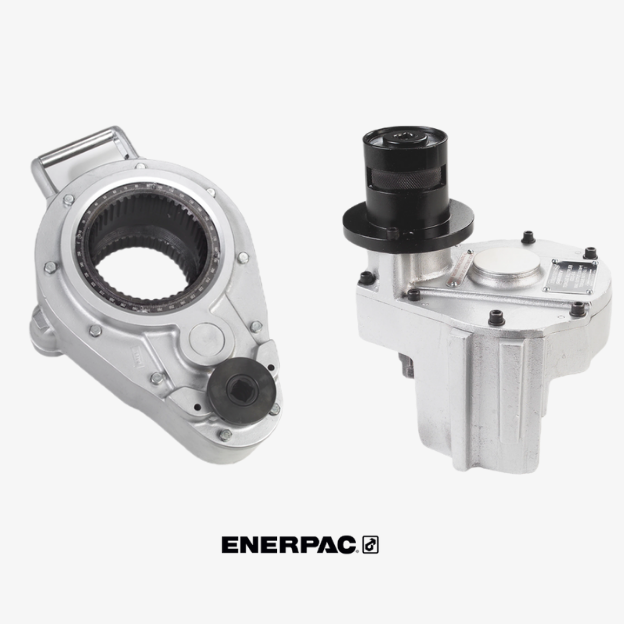 Our range of Enerpac's assembly tools
CIR Aero has the pleasure to introduce its new range of assembly tools Sweeney of the brand Enerpac, for the maintenance of civil and military aircraft engines. From now on, CIR Aero is able to offer you the Sweeney range, which has been at the service of the aeronautical market for more than 80 years.
You will find the Sweeney torque multipliers which are used in the aeronautical sector. They are high ratio reduction gears that allow tightening and loosening of threaded assemblies with high torque values. The SWE8112 and SWE8111 models incorporate an automatic braking system.
A wide range of accessories are also available : slings, maneuvering handles with extendible arms, as well as ratchet wheel adapters.
The SWE8202 model offers additional multiplication to facilitate complex torque procedures. Two other multipliers are available in the range :
SWE8202A pneumatic torque multiplier,
SWE8202-290A mechanical torque multiplier.
Sweeney also introduces a range of Digital Rotation Tools for turbine engines. This allows a safe and controlled rotation of turbine engines during borescope inspection.
The Sweeney range includes rotation tool adapters for all engine models listed below. If you need an adapter for an unlisted engine model, Sweeney and CIR Aero's technical teams will find you a custom solution.
| GE | Pratt & Whitney | Rolls-Royce | CFM Intl | IAE |
| --- | --- | --- | --- | --- |
| GE90 | JT8D | AE2100 | CFM 56 | V2500 |
| GenX | JT9D | RB211 | LEAP | |
| CF6 | PW2000 | Trent | | |
| LM2500 | PW4000 | | | |
| LM5000 | | | | |
| LM6000 | | | | |
| F110 | | | | |